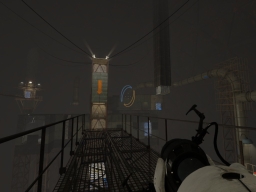 Author: Llobster
Released: May 7th 2011
Download: Here
Introduction
Take another trip down into the forgotten test chambers and solve the puzzle which awaits in the sphere of roundness.
Review
Llobster manages to take the design of Old Aperture and tackle it here very well. The more that I saw of it while exploring the chamber, the more I had felt as if it could have been something taken straight from the original game. The assets have been put to good use and remain consistent to the style with overall good lighting, offering the right atmosphere along with the choice of music. The most enjoyable aspect here has got to be how natural it was to reach the solution of each puzzle, requiring some level of thinking while having an easy time to executing them. It is good to see that a lot of thought has been put into the position and layout of each segment, with elements eventually reused for later sections throughout the chamber. I could move from one puzzle to the next without stressing too much once I have gotten over the thinking part. It is an easy chamber to get through, but no doubt an engaging and polished experience that many people will enjoy.
Conclusion
Engaging and fun test chamber which almost feels like something take straight out of the original game, along with it's design and atmosphere.
Download Mirrors
Planetphillip