Introduction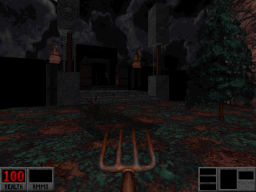 Rage Against The Machine, RATM or simply 'Rage', is a combined effort by select members of the Blood community to create a Blood campaign worthy of remembrance and worthy of honouring, and hopefully complementing, the Blood title and its legacy. Rage's objective is to expand on the Blood universe, adding a little innovation where necessary, while not compromising the spirit of the original title's unbeatable action, breathtaking atmosphere and overwhelming fun factor.
This review was a little on the late side but it's not exactly everyday you get to enjoy a new Blood release, eh?
Gameplay
Rage is an action packed, nine leveled episode which takes place in a variety of locations. The overall gameplay is not that much different than the original game as you fight against those zombies and monks once again. However there are a few innovations placed throughout which were a rather nice addition, such as those cutscenes during the introduction map. Although the gameplay is pretty standard, doesn't mean it's a bad thing since there is a nice sense of flow between the levels and some rather enjoyable fights againt the enemies. Some of the locations you'll be travelling through include some mines, the forests, a town and more. Each level had a fair balance of enemies and supplies, and I noticed no fustrating locations. One level however, the sewer, was rather too dark. Although this was probably to increase the tension, I found it a bit of an annoyance along with the fact I don't enjoy sewer levels.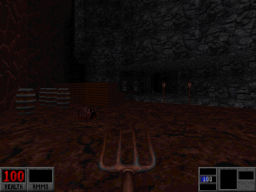 Design
Another strong area for the episode with some decent structure and design throughout the levels. Each theme is created rather well with fitting choices for textures, and consistent flow between each area. The lighting is also rather fine and fair, except during the sewer level which as already mentioned was more of an annoyance than an increase to the atmosphere. Sprite and voxel usage was also on the balanced side without adding too many unnecessary pieces in the locations. Especially liked the shops during the town map because of this as well. Not much else to look into detail as some of the levels did lack something to make them stand out a bit more, but not a major issue.
Conclusion
Balanced and enjoyable nine level episode with variety of themes. There is a lack of Blood out there, be sure to check it out!
Overall Rating: 90%
Type: Singleplayer / Multiplayer
Authors: Matthew "Daedalus" Kallis / RATM Team
Requires: Plasma Pak
Recommended: Blood One Whole Unit v1.21
Download: Here
Note: It is reccommended you either mount or burn the ISO to disk for it to run correctly.