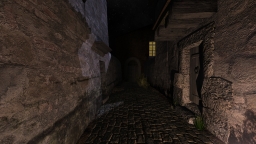 Author: RPGista
Released: April 22nd 2012
Download: Here
Introduction
You are a nameless hero, who was asked for help by someone you feel deep compassion for. Your plan is to avoid the streets and head towards your goal through nearby buildings and inner alleys. Unfortunately, the area is not a peaceful one this night in particular.
Review
Remembrance doesn't exactly follow the typical style of a mission, where instead RPGista had chosen to take a linear approach toward the goal with an odd place along the side to check out. This was intended to create a puzzle side to tackling obstacles that players much face and forcing a situation where remaining completely hidden may not be an option. This can become an annoyance for those who attempt to ghost the mission before realising this. By covering a small area, the layout is pretty straight forward with a few interiors that can be broken into in order to grab some loot. There is however the option to choose between two paths, which was a good decision considering one of these routes requires some mantling. This one in particular had an issue with two objects I didn't expect to be climbable and got a little lost as a result. Upon reaching the church area, it also becomes impossible to backtrack for the treasure hunters out there. Diverting off the given path is definitely encouraged to get the most out of the mission, with readables to provide depth to the setting.
On the design front, construction across the level is pleasantly done from its high attention to detail put toward buildings, such as irregular bunking walls of old housing, preventing the usual flatness of such areas and providing streets and alleys with a more refined shape. The village and layout then felt quite real this way, along with other visual touches which add the right amount of detail in places it fits without cluttering them up. RPGista also avoids other cases of flatness with things like worn down steps on a staircase or broken walls. Use of NPCs going about their business and acting according to their given roles helps to bring further immersion into the environment. Lighting is another appealing aspect in many areas, with an effective use of moonlight to set the mood with warm fires flickering through the streets.
Conclusion
While not your typical mission where stealth is a priority, Remembrance is a straight forward adventure with the occasionally obstacle to tackle and some side areas to explore. Design is the strongest point, with enough detail and structural shape to feel like a real village.
Download Mirrors
The Dark Mod Missions