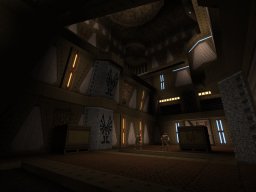 Author: Misyu, necros, Vigil & Xen
Released: October 8th 2002
Download: Here
Introduction
Put together by various authors contributing to the project, Subterranean Siege is a very large, action packed, high tech map from 2002, which also includes a new enemy grunt to fight against. Very large level, action packed, brilliant design and a very enjoyable experience overall.
Gameplay
One major aspect about this level is that it is large and action packed, which works really well with the several gameplay choices the authors decided to use. You will encounter small waves of enemies in each of the several sections, against different grunt types and a few other various creatures. There is a lot of verticle action in certain areas which adds plenty of variety to the mix. The map is quite challenging in a fair manner, where the player is given plenty of resources and good general flow throughout the level with traps and respawns. The level also contains a very useful feature where slipgates open up in various previous locations as you progress that work like shortcuts to get back to the current "checkpoint" of the level. The new grunt enemy you encounter also works well to add a bit of challenge for the player, since it can activate a forcefield around itself temporarily which was fun to fight against.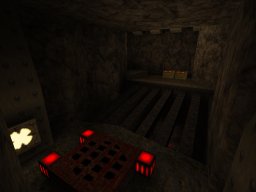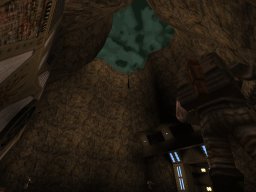 Design
The level takes place within a high tech complex, which also shows many signs of being within a cave where some of the walls and ceilings will reveal rock formations and some ceiling holes where a great looking green sky can be seen. The quality of design here is, to put it simply, excellent. The complex itself has been constructed very well with a lot of good structural work all over the place, generally some great texture choice and usage throughout. Even the ceiling areas are not even left bare, and the place is very well lit using a mix of orange and blue light textures to add a but of contrast throughout the level. There is also a small bit of variety as you progress where you will encounter cave areas or generally just entering different small and large spaces. Overall, the design aspect is consistent, solid and of a high quality calibre.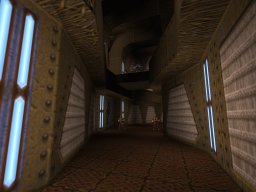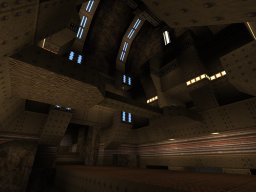 Conclusion
Challenging and enjoyable, with excellent high quality design throughout.
Download Mirrors
Quaddicted Mirror